Work-Based Learning on the Job with Parrish Construction Group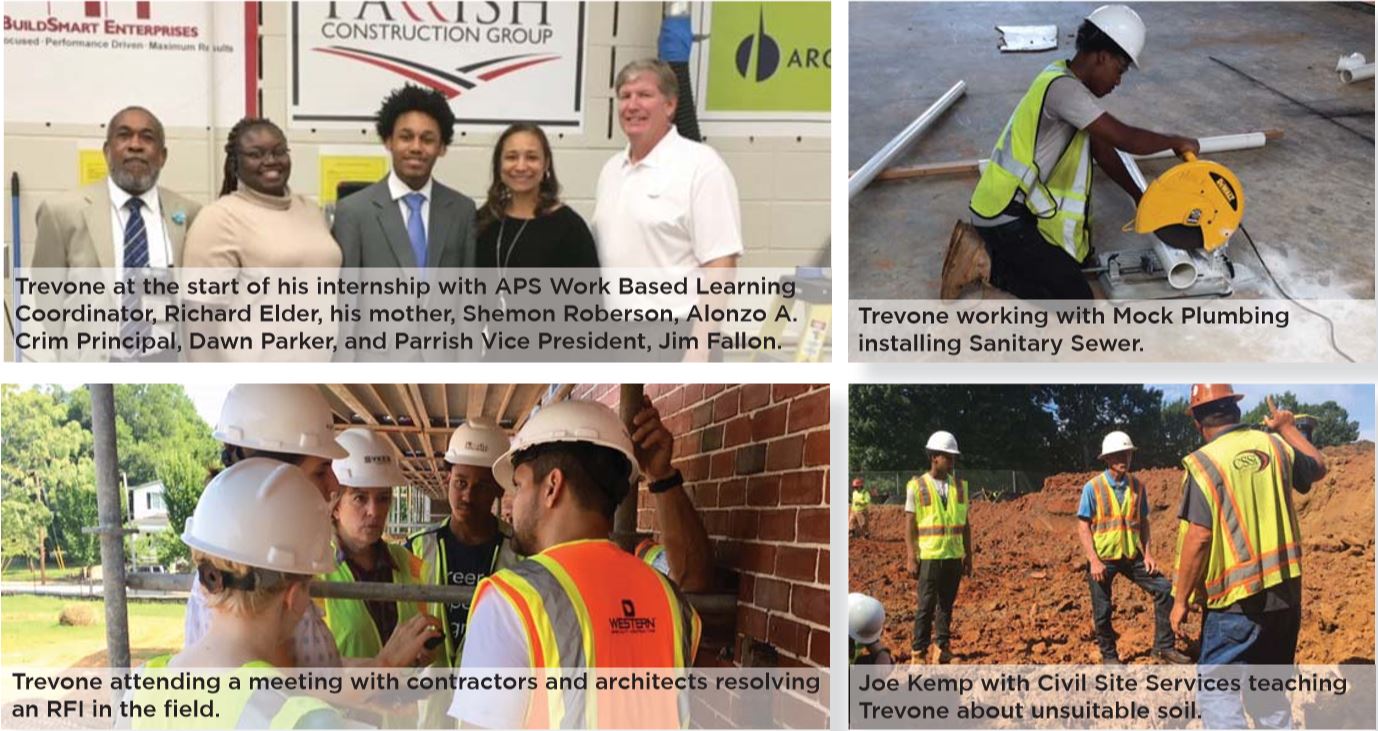 ATLANTA, Georgia - September 26, 2018 — As part of an ongoing effort to promote the growth of the construction market in Georgia, Parrish Construction Group was pleased to have Trevone Wilson, a construction work-based learning student at Atlanta Public Schools' Alonzo A. Crim Open Campus, as an intern this summer.
Trevone started working under Parrish Construction Group's Director of Field Supervision, Art Cofelice, at Atlanta Public School's Walden Athletic Complex. Walden was a $7.4 million project that consisted of the demolition of the existing Austin Thomas Walden Middle School building and the construction of a new athletic complex to serve Grady High School. The complex sits on a 6.27 acre site and included the construction of a fi eld house, a multipurpose turf athletic fi eld, and a softball/baseball fie ld.
Trevone then had the opportunity to transition from the Walden jobsite to the Atlanta Public Schools Howard Middle School jobsite. As the former school of Dr. Martin Luther King Jr. and many other Atlanta Icons, Howard is one of Parrish's most high-profi le jobs todate. Not only has Trevone excelled working under Art Cofelice at Walden and Howard but he also has had the opportunity to work with Parrish's Project Managers, our BIM Manager, and various trade subcontractors.
Since Trevone's summer internship, he has graduated from Alonzo A. Crim Open Campus and is currently attending Atlanta Technical College studying Construction Management. Over the next two years he will attend classes on Monday, Wednesday, and Friday, and will continue working on the Howard Middle School jobsite on Tuesdays and Thursdays. Trevone was a valuable addition to the Parrish team throughout the summer and we look forward to continue to work alongside him over the next few years.
ABOUT PARRISH CONSTRUCTION GROUP
Parrish Construction Group is "Georgia's Premier Academic & Specialty Builder." Founded in 1995, Parrish performs construction services throughout the state of Georgia, with a specialty in CM at-risk for education clients. www