What is Work-Based Learning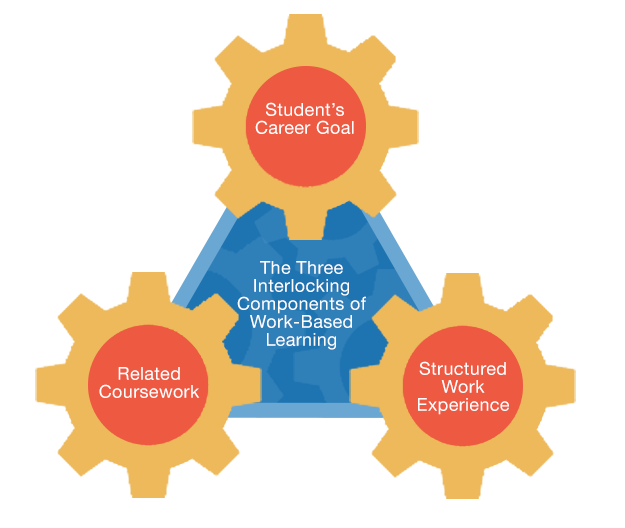 Career Technical and Agricultural Education (CTAE) contains many structured age appropriate experiences which prepare students to be college and career ready. Beginning with career awareness in elementary school, career exploration programs in middle school, and technical skill development in high school, Work-Based Learning is a culminating experience for students taking courses in their chosen career pathway. Students may enroll in a Work-Based Learning course once they reach the age of 16 where they will receive credit while working in an environment related to their career pathway.
The Work-Based-Learning coordinator for the school and/or the CTAE pathway teachers may conduct many supporting activities to prepare students for the Work-Based Learning experience. These include, mock interviews, job shadowing, student portfolios, career fairs, interest and aptitude surveys, career awareness and career exploration, guest speakers, and field trips.
Work-Based Learning placements represent the pinnacle of the CTAE experience. It all starts with Georgia's Career Clusters which allow students to choose an area of interest in high school from the 17 clusters. Students take classes tailored to their cluster, which helps them navigate their way to greater success – no matter what they choose to do after high school graduation. Their job placement is directly related to their curriculum of the pathway classes. Current clusters include:
Agriculture, Food and Natural Resources
Architecture and Construction
Arts, A/V Technology and Communications
Business Management And Administration
Education and Training
Energy
Finance
Government and Public Administration
Health Sciences
Hospitality and Tourism
Human Services
Information Technology
Law, Public Safety, Corrections and Security
Manufacturing
Marketing
Science, Technology, Engineering and Mathematics
Transportation, Distribution and Logistics
The Youth Apprenticeship Program
Youth Apprenticeship is a structured combination of related coursework completed at the high school level and on-the-job training specific to a post-secondary credential which the employer and student is committed to. Essential components of Georgia's Youth Apprenticeship Program area partnership structure involving secondary schools, post-secondary institutions, employers, and community representatives. Through a coordinated effort involving business and industry, Youth Apprenticeship addresses the dual role of preparing students for the world of work and providing Georgia with a highly skilled, technologically competitive workforce. Youth Apprenticeship is appropriate for careers where specific credentials that are required have been identified. These credential may include certificates, associate degree, diploma, and other industry identified and recognized credentials.
Youth Apprenticeship includes an agreement between the employer and the student and school system. This TRAINING AGREEMENT as a minimum requires the following:
Development of a detailed training plan of competencies to be learned on the job and specifically what tasks student will perform on the job.
Commitment to allow the student to work toward their post-secondary credential and accumulation of a minimum of 720 hours of on-the-job training.
Assistance to the student in making the transition from school to the workforce with possible considerations for their future employment with the company upon completion.
Workplace mentoring, and instruction in general workplace competencies.
Periodic evaluations of employability skills and progress toward improvement at performing the competencies on the training plan.
Adherence to all State and Federal labor laws and regulations for working with youth.