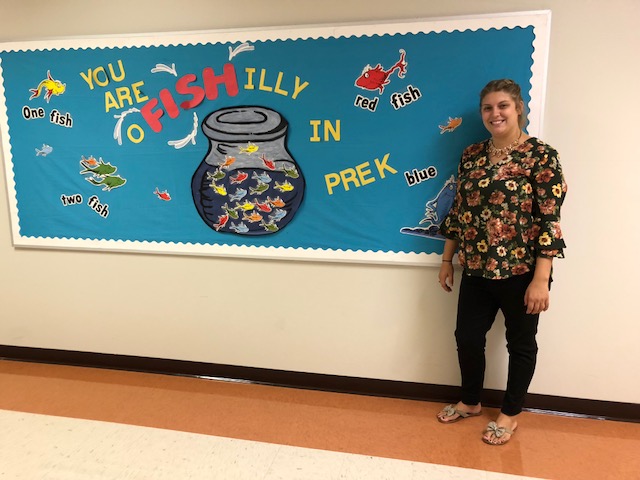 Hannah Stowe - Eastside High School - Covington, Georgia
Work-Based Learning (WBL) is a program available to juniors and seniors to prepare them for their future educational and career goals through a mentorship in a work setting. The Newton County Schools WBL Programs (Alcovy, Eastside, Newton& Newton College & Career Academy) have been very successful in transitioning students into the world of work. The benefits of the WBL Program are apparent through the alumni. Hannah Stowe participated in WBL while she was a student at Eastside High School in Covington, Georgia. She worked for a daycare center in 2012 during her senior year of high school. Today, Hannah works for the Newton County School System (NCSS) in the Pre-K room at the Newton College and Career Academy. She credits her success and opportunity to pursue her passion to her WBL experience while in high school.
While At Eastside, Hannah was an early childhood education intern at a daycare where she assisted with an afterschool program for elementary students. Since the daycare required the staff to be certified, this put Hannah ahead of her peers. The daycare provided classes to obtain the certification needed, giving her an "early start on experience." This whole process taught her professionalism. Although this professionalism is mentioned in school, it is emphasized and required in the workplace. This experienced prepared Hannah for all of her future career endeavors. Reflecting upon her WBL days, she wishes she had participated in the program her junior year and recommends this to all students.
Not only did WBL prepare her for the world of work, it also directed her in the path she is passionate about. The daycare provided her with exposure to children. She learned how to respond and deal with them in effective ways. It was through WBL that she realized that she wanted to work with children. Hannah advises students to, "Find out what you're interested in now; know what you like to do so you that you can follow your passion."
While Pre-K may sometimes may seem like just arts and crafts, she is working hard to reform the idea about Pre-K. She strategically incorporates fundamental learning concepts into intriguing activities. Hannah states, "It's important to realize that Pre-K is the start of your child's learning career." She works to build a better relationship with these students to prepare them for their future. Despite how short one year may seem, to children, it is a long time. Hannah shares, "Getting the opportunity to watch these kids grow and learn has been the most rewarding. Seeing the children light up about the little things in life has given me a greater appreciation for things." Looking back to where it all started, Hannah says she, "can only be thankful for all WBL has brought me."
Success Story Submitted by: WBL Student Anh Thu Nguyen